WE HAVE WHAT YOU NEED...
Convenient, reliable, safe, dry and accessible mobile storage. LokBox is the affordable alternative to conventional self-storage units.
Let us help you meet your storage needs...Whether you are in need of a temporary storage unit that stays on your property, or an efficient way to move your belongings from one location to the next, the staff at LokBox will work with you to achieve a cost-effective solution. LokBox offers security and protection for your belongings while they are being packed, stored or moved. Our mobile containers, available in 8' x 12' and 8' x 16', can be conveniently delivered to your home, business, job-site or event. The mobile storage container allows you to work at your own pace, and on your own schedule, as you pack and unpack your belongings. The portable container is yours for as long as you need it at a reasonable monthly rate. Simply click this link, place your order online, to complete the online form for your quote today.
LokBox offers a secure and accessible alternative to conventional self-storage units, because we deliver the spacious, weatherproof storage container directly to you. No need to pack your items onto a truck, drive them to a self-storage facility and then unload; your mobile storage container is conveniently located on your property, available for you to access 24/7.
The storage possibilities are limitless with LokBox:
Remodelers, builders and subcontractors use the container as a safe onsite storage facility for their tools and materials;
Homeowners and commercial property owners rent temporary mobile storage during renovations;
Businesses with limited indoor space, such as retail stores, place mobile containers on their property for safe and convenient storage of extra inventory;
Temporary storage space for a new employee's belongings during a relocation;
Schools utilize for storage of sports equipment, band instruments, furniture and more.
Unlike other mobile storage solutions, LokBox containers are made of wood, not metal, and are built in Lancaster County, PA by some of the finest craftsmen. A LokBox is solid, strong and built to withstand the harshest weather. Your belongings will be safe, secure and dry while stored inside a LokBox. Each container has tie down rings for extra security of your items.
12' BOX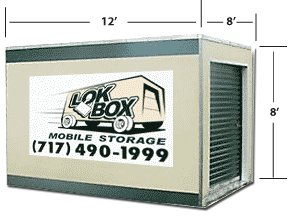 This 8'x8'x12' container can hold the contents
of most 1,200 square foot homes.
Interior Dimensions
Length = 141.25 inches
Width = 90.5 inches
Height = 96 inches
Floor = 90 square feet
Volume = 720 cubic feet
Door Opening
Width = 82 inches
Height = 77 inches
16' BOX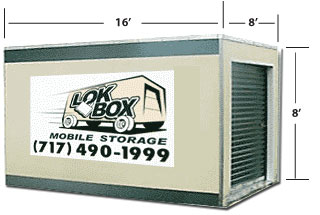 This 8'x8'x16' container can hold the contents
of most 1,500 square foot homes.
Interior Dimensions
Length = 189.5 inches
Width = 90.5 inches
Height = 96 inches
Floor = 120 square feet
Volume = 960 cubic feet
Door Opening
Width = 82 inches
Height = 77 inches